Syntax's services are purpose-built and fine-tuned for the nuances of SAP landscapes, so you can securely run your mission-critical SAP systems around the clock and around the world.
Why Syntax for SAP
As an early SAP adopter and customer, Syntax has provided managed cloud hosting services for more than 40 years. As SAP implementations proliferated in the cloud, Syntax was there for SAP customers. Syntax offers an array of SAP solutions, including upgrades, cloud hosting, application managed services, and ongoing support. We can help your company successfully migrate from SAP ECC to SAP Suite on HANA and S/4HANA.
Syntax has SAP-certified experts, industry leading operational service level agreements (SLAs), guarantees a certain level of application availability based on your objectives, has high customer satisfaction levels, and provides flexible services to meet your budget and timing needs.
Syntax SAP Solutions
Our SAP solutions experts will help you craft a detailed plan to ensure you're getting all the value and performance that you can from your mission-critical applications. With hundreds of satisfied customers in nearly every industry, Syntax is the SAP partner you can trust for the implementation, optimization, and day-to-day operations of your SAP landscape.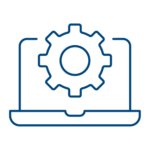 Continuous Innovation Adoption
Migrations
Implementations
Upgrades
Conversions
Consulting
Development
Integrations
Project Management
Training
Security Assessments
SAP on Syntax Private Cloud
SAP on Amazon Web Services
SAP on Microsoft Azure
Application Managed Services
SAP Technical Managed Services
Mergers and Divestitures
Business Analytics
IoT Implementations
The Syntax Enterprise Cloud® for SAP
Syntax is an industry leader in providing Cloud Services for SAP and we've been doing this for more than 40 years in our private cloud. Our complete suite of Managed Cloud Services can help you optimize new technology, reduce costs, and gain access to senior level SAP support whenever you need it.
Enterprise Cloud® for SAP
Business Continuity
High Availability
Disaster Recovery
SAP Security
SAP Technical Managed Services
SAP Application Managed Services
Syntax Managed PaaS
Syntax Managed IaaS
Syntax On-Premise Support Services
SAP Success Stories
Learn how companies with mission-critical SAP systems are partnering with Syntax.
Cintas streamlined its IT department to devote more time and resources to enhancing customer service functionality instead of system maintenance and upkeep, fast-tracked the digitization journey with a hosted cloud and achieved a fresh and clean customer experience.
Since 2009, Dole Packaged Foods has run its SAP environment in Syntax's private cloud, relying on Syntax's ability and flexibility to support and secure Dole's mission-critical SAP applications. Looking to take the next step in its digital transformation, Dole Packaged Foods set out to identify and evaluate public cloud options to best meet its needs. Cost optimization, without compromising the quality of service, was a primary consideration for Dole. Together, Dole and Syntax identified Amazon Web Services (AWS) as the optimal public cloud provider for Dole's workloads.
Aryzta took a fresh approach to hosting data in the private cloud by choosing the infrastructure as a service approach with Syntax allowed Aryzta to reduce its total cost of ownership by nearly 30%, while also gaining access to round-the-clock support.
SAP Cloud Readiness Workshop
Syntax can provide your company with an architecture design or cloud readiness workshop to assess your cloud requirements and recommend the optimal hosting strategy for your private, public, or hybrid cloud. During this workshop, we'll perform a thorough review of your cloud hosting requirements, objectives, and goals. We will then work with you to clearly identify what can and can't be realized.
In this cloud readiness workshop, Syntax will:
Collect data and reports for your applications such as SAP EarlyWatch reports
Establish service level agreement (SLA) requirements
Identify business initiatives around a "cloud-first" strategy
Determine your application and big data strategy
Review your software and services initiatives
Identify industry compliance requirements
Determine data privacy requirements
Determine data security requirements
Request interface requirements for your SAP applications