SOLUTIONS
SAP Upgrades & Implementations
Helping you navigate the complex world of SAP implementations and upgrades.
Reliable SAP Experts. On Time and On Budget.
Your company needs to overcome obstacles, prepare for roadblocks, and determine the best solutions for your evolving business. This is the new world of business.
Whether you're an SAP user who has their systems on-premises, in a private cloud, in the public cloud, or are using a hybrid cloud approach, one constant remains: you need reliable SAP experts who can deliver successful SAP projects, on time, and on budget.
Our SAP Management Consulting team offers SAP expertise backed by a proven track record of delivering successful SAP services. In North America, the strength of our implementation team is bolstered by our subsidiary Illumiti, an SAP Platinum Partner with over 20 years of experience and a team of 250 SAP consultants.
We will help you transform your business through your mission-critical SAP apps.
SAP Management Consulting Services for SAP Upgrades and Implementation
Syntax's Consulting team provides SAP implementation and upgrade services, health checks, and a full range of SAP technical development services which can be tailored to meet both your business and financial requirements.
Our SAP Management Consulting team offers flexible delivery models which can include:
Analytics
Advisory Services
Continuous Improvement Programs
Health Checks and Value Assessments
Implementations
Methodologies
Readiness Assessments
Reporting
Rollouts
S/4HANA Migrations
Starter Programs
Upgrades
Workshops
SAP Products and Services
In addition to application development and management services, the Syntax Management Consulting team delivers professional services for a wide range of core SAP products and services, including:
SAP Continuous Improvement Program
Are you getting the most value from your SAP investment?
When companies implement SAP software, they are making a significant investment of time, resources, and money. Yet, many organizations believe that they don't need to do anything else once the software has been implemented.
SAP systems offer world-class solutions, capable of providing tremendous insights into your business and enabling more intelligent decisions. Unfortunately, most companies don't get the full benefits of SAP software. They don't understand the capabilities of their solution, aren't up-to-date with the latest software, or the solution hasn't been aligned with their business objectives.
We want you to be able to get the most value from your SAP investments. That is why we've developed a Continuous Improvement program comprising two offerings.
SAP Health Check
A review of your SAP landscape
During this 90-minute session, our experienced consultants work with you to review your use of a specific SAP module, including pain points, training gaps, manual workarounds, reporting gaps, and wish lists.
We'll also review your targets and top key performance indicators (KPIs) to prioritize action items to help you meet your strategic goals. The workshop's output is a written report containing prioritized recommendations that you can consider to better leverage your SAP system.
SAP Value Assessment
An in-depth review of your SAP solutions
On average, each SAP Value Assessment takes 8 business days to complete. Based on your organization's needs, the Value Assessment will be conducted by one of our senior consultants – individuals with extensive experience implementing, tailoring, and upgrading SAP solutions and processes for companies just like yours.
4 Key Pillars of a Value Assessment
Key Performance Indicators (KPIs)
Reviewing, baselining, and benchmarking KPIs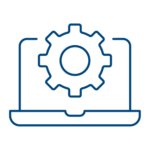 Technology
Reviewing current technologies being utilized, issues, and opportunities
Process
Reviewing processes, conducting staff workshops, and job shadowing
Reporting
Reviewing current reports, gaps, and opportunities for improvement
As a part of this service, we can help you conduct an in-depth review of the value you're getting from an individual SAP module or your entire SAP footprint. If you would prefer to focus on addressing opportunities one pillar at a time, we can modify our approach accordingly.
Theory of Constraints
From performance benchmarking to extensive process and capability roadmap development, our team works with you to focus SAP customizations on the areas that matter most to your business. Our methodology leverage the 'Theory of Constraints' (TOC) management philosophy developed by Dr. Eli Goldratt, to help you differentiate the thing that must change from the many that can change.
A closed-loop cycle provides a feedback process and ensures ongoing improvements are in place.
Targeted performance improvement of operational metrics such as reliability, speed, and working capital
Current state and future state development, including a roadmap
Business case development
Value realization benchmarking
Change management
We help you create customer-centric experiences with human insight and Design Thinking Principles and add value at various stages of your technology lifecycle.
Before the implementation, you can determine the scope and approach parameters for the project.
After the implementation, you can check where value has been realized, and identify untapped potential.
The Theory of Constraints is powered by Illumiti, a Syntax company.