Ready to lower expenses and increase ERP performance? Syntax's services are purpose-built and fine-tuned for JD Edwards, so you can securely run your mission-critical JD Edwards systems around the clock and around the world.
Why Syntax for JD Edwards
Syntax has been providing business solutions built around JD Edwards applications for over 45 years. As a pioneer in the JD Edwards space, we've supported and implemented the entire suite of applications, as well as delivered development projects, integrations, upgrades, cloud hosting, managed services and ongoing support.
With hundreds of implementations under our belt, we rank at the industry forefront as a clear leader for providing the in-depth knowledge and experience demanded for the JD Edwards solution set. Syntax has Oracle certified experts, industry leading operational service level agreements (SLAs), high customer satisfaction levels, and provides flexible services to meet your budget and timing needs.
Syntax JD Edwards Services
Our JD Edwards experts will help you craft a detailed plan to ensure you're getting all the value and performance that you can from your mission-critical applications. With hundreds of satisfied customers in nearly every industry, Syntax is the JD Edwards partner you can trust for the implementation, optimization, and day-to-day operations of your JD Edwards landscape.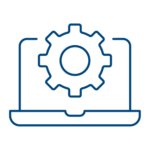 Implementations
Upgrades
Functional and Technical Consulting
Application and CNC Managed Services
Development
Integrations
Project Management
Security Assessments
Health Checks
Training
JD Edwards on Syntax Private Cloud
JD Edwards on Amazon Web Services
JD Edwards on Oracle Cloud Infrastructure
Business Analytics
IoT Implementations
A Commitment to Superior Support and Service
When you migrate to the Syntax Enterprise Cloud®, you don't simply gain access to the industry's most secure and robust JD Edwards Cloud platform, you also gain a true business partner that is committed to ensuring that your investment in ERP delivers ROI.
Every client benefits from an identified Client Success Manager (CSM) whose first responsibility is to align all Syntax Enterprise Cloud® resources to your benefit. Assigning a dedicated CSM gives you one point of contact, ensuring that you know the people servicing your environment and that our team intimately understands your business.
Each CSM begins by conducting a SWOT analysis of your environment. Based on those results, your CSM will develop a plan of action that both remediates any issues detected by the SWOT and outlines proactive steps to optimize the performance of your JD Edwards applications.
Performance Driven SLA'S
Syntax backs its promise of delivering superior service by committing to performance based Service Level Agreements (SLA's).
Most SLA's from ERP hosting providers simply outline incident response times and dictate that the production environment will remain on line.
In contrast, Syntax's SLA's go beyond offering basic guarantees by committing to predefined performance metrics, ensuring that your JD Edwards instance always has the capacity you require. Syntax SLA's also cover the CNC & technical services required to run, maintain and patch with Oracle best practices for JD Edwards.
Take Your First Step to JD Edwards Cloud Success
The Syntax Enterprise Cloud® provides you with an end-to-end cloud ERP solution that will help you reduce cost, leverage new technology, and gain access to senior level JD Edwards support whenever you need it.
Migrating your JD Edwards applications to the Syntax Enterprise Cloud® will mitigate the risk of system outages and provide your business with a scalable platform that will grow with your business.
JD Edwards Success Stories
Learn how companies with mission-critical JD Edwards systems are partnering with Syntax.
Pairing an upgrade to JD Edwards 9.2 with a simultaneous migration to an AWS cloud solution enabled Mayer to achieve a flexible, cost-effective, and scalable infrastructure with access to the latest JDE tools and enhancements.
After a twenty-year partnership, IGI again choose Syntax to manage its upgrade to JD Edwards 9.2. Syntax delivered the upgrade on-time and 15% under budget with a reduction in IGI's Oracle support costs and an improved security posture.
Syntax delivered a modern managed hosting solution with an effective Disaster-Recovery as-a-Service (DRaaS) resource that provided Terumo improved availability and stability of their JD Edwards and iSeries platforms.
Fraud Detection (FraudID)
Stop Fraud in Its Tracks
Proactive Fraud Monitoring for JDE EnterpriseOne
FraudID for JD Edwards EnterpriseOne, proactively detects and alerts for suspicious transaction activity by closely monitoring production data in real-time.
With over $3.7 trillion dollars lost due to fraud annually by businesses around the world, fraud prevention has become essential to running a successful business.
Studies have shown that proactive data monitoring and analysis is the most effective fraud prevention solution, and can reduce losses by up to 60%.
FraudID for JD Edwards combines transaction monitoring, data pattern and statistical analysis, and log mining techniques to flag suspicious JD Edwards end-user activity and alert auditors and controllers in real-time.
FraudID FAQs
What is FraudID?
A solution utilizing transaction monitoring and sophisticated pattern analysis techniques along with log mining, to proactively detect, flag and notify auditors and controllers of any suspicious business activity.
Which Key Business Functions Are Monitored?
Payroll/Human Resources, Accounts Payable and System Administration (CNC) are monitored to effectively detect potential fraud within the JD Edwards EnterpriseOne environment.
Is Monitoring Done in Real-Time?
Yes, real-time analysis of transactions is performed, securely monitoring and identifying asset misappropriation, which makes up an estimated 85% of corporate fraud activity.
How is FraudID Implemented?
It is available as a standalone solution or in conjunction with Syntax's proactive CNC monitoring and alerting platform, Syntax EnterpriseCare®.
What JD Edwards Releases Are Supported?
All JD Edwards EnterpriseOne releases currently supported by Oracle.
What Databases Are Supported?
SQL Server, Oracle, and DB2/400.
How Long Does It Take to Implement FraudID?
Most companies can implement in less than 8 hours.
"With FraudID, we were able to detect an internal resource who was able to temporarily add a role to themselves, then remove it. It gave me the visibility to a less-than-ideal business process issue which I wouldn't have caught without FraudID."
Heather Schloemann
Sr. Business Systems Analyst
JD Edwards Encryption & Data Security
EnCrypto Data Security
Data breaches make headlines, putting companies in a bad light. Yet JDE has no native data field encryption capabilities to enhance data security. With developers, system administrators and DBAs all accessing data, you need JDE encryption to keep sensitive data, including HR/payroll data, secure. The good news is, EnCrypto has you covered.
What is EnCrypto?
EnCrypto delivers JD Edwards encryption capabilities with military precision. The only JDE application-level encryption solution on the market, EnCrypto features:
JDE sensitive data protection with military grade encryption (AES-256)
Column-level transparent data encryption for most platforms supported by JDE.  Some combinations utilizing IBM platforms (AS/400, iSeries, or Power) are not supported
Data that is stored encrypted on the database (encryption at rest)
Fine-grained control over who has access to decrypt which fields and columns
Why Choose EnCrypto?
Traditional database-level encryption does not account for data classes or specific user entitlements, with limited ability to be selective, so encryption and access controls are an all or nothing proposition. Not so with EnCrypto, which allows for field-specific encryption and granular user access control.
JDE data security concerns? Not with EnCrypto, protecting your most sensitive data fields with JD Edwards encryption.
JDE Encryption. Done Right.
E1 Business Intelligence. Simply Better.
Traditional business intelligence (BI) solutions are expensive and complex. Slow performance and even slower user adoption rates translate to uninformed business decisions. Vision, the only SaaS-based BI solution for JD Edwards, revolutionizes business analytics. Leveraging the GoodData platform, Vision is the dynamic E1 Business Intelligence tool that manages modern-day complexity without breaking a sweat.
The Future of BI Is Now
What if you could move JD Edwards analytics from massive spreadsheets to an interactive dashboard fed by JDE E1, Salesforce, Constant Contact, you name it? Sales could easily identify the most profitable products and customers, track leads vs. goals, and hold reps accountable. Marketing could seamlessly assess campaign effectiveness and where to direct spending. The future of E1 Business Intelligence is now. Welcome to Vision.
Vision: BI Reimagined
SaaS-Based E1 Business Intelligence Solution
GoodData Platform – Exclusive JDE Partner
JDE-Specific, Cloud-based Data Warehouse
Rapid Implementations
Continuous Improvement
100% Scalable JD Edwards Analytics
Subscription Based Pricing
Better Insight. No Bother.
Say "goodbye" to everything that bothers you about BI. And say "hello" to Vision, the SaaS E1 Business Intelligence solution powered by GoodData and created specifically for JD Edwards analytics. Super-streamlined with IT in mind.
Business Intelligence FAQs
Where Are Syntax BI Managed Services Team Members Located? How Much Experience Do They Have?
All members of our BI Managed Services team are 100% on shore, the majority of which are located in Atlanta, GA. All members have been working with BI, ETL and DW technologies for at least 8 years; most for many more.
How Can I Open a Ticket Or Service Request?
We offer multiple ways to get access to our support team. You can get in touch with service desk 24 hours a day, 7 days a week
Toll Free: 1-877-968-2948 – Option 2
What Makes Vision a True Saas Solution and Not Just a Cloud BI Tool?
Unlike hosted BI environments in the Cloud where the customer is still responsible for the administration of all ETL and data warehouse processes, Syntax owns this part of the solution. This means that you do not require any in house expertise or IT involvement to maintain day-to-day data loads and processes. If there is a data load failure for whatever reason, Syntax employees immediately get notified, and begin working to quickly resolve any issues.
Why Do I No Longer Have to Worry About Upgrades?
The Vision platform powered by GoodData is regularly enhanced every few weeks with new capabilities. This means that you never have to go through a costly upgrade of the solution because you are always on the latest and greatest version. And you don't have to worry about applying bug fixes to your environment like other BI solutions, because it just works!
Can I Pull in Other Data Sources Outside of JD Edwards?
Absolutely, and we encourage bringing in other data sources to maximize the insight of Vision. Customers frequently bring in data from CRM applications such as Oracle Sales Cloud and Salesforce, as well as on-premises databases, spreadsheets, or cloud based applications.
Can Syntax Help Extend Our Use After the Initial Implementation?
Syntax is happy to help as much or as little as you need moving forward. Part of our implementation process includes Power User Workshops to help ensure our customers are self-sufficient in building out additional reports and dashboards, but we are happy to help quickly assist if your resources don't have time. And because of our years of building out BI solutions for JD Edwards, our Vision ETL experts are ready to quickly build out any custom data warehouse extensions that you may require.
JDE Breadth
Out of the Box
The span of SaaS analytics is endless. Yet from day one, Vision delivers pre-developed JDE mapping content from AR, AP, and GL including Inventory, Sales, Purchasing, Forecast Analysis, Capital Asset Management and Production/Manufacturing. Be up and running in a day. Extend to include other data sets with ease. Give users what they need to look smart and act even smarter with Vision.